Posted by Alexa on 11th Feb 2020
These days, it's all about dressing as if you bought your outfit used for under $50. It's the thrifty people that are sought out, and it is those who can answer questions like "where did you get your outfit" with "this is a vintage, one-of-a-kind look" that are admired. Well, if you're like me, you don't always have the time or energy to sift through hundreds of vintage stores to find that unique look. It's the 21st century, shouldn't there be a general and user-friendly way to look unique?
Enter the 215B Threadfast Ladies' Cross Dye Short-Sleeve V-Neck T-shirt: An easy to purchase t-shirt that looks vintage but is brand new! The 215B is a distressed but fitted t-shirt made from 60% Ring-spun Cotton and 40% Polyester. No 215B is the same as it is made by using a cross dying process of the Ring-spun Cotton and Polyester. With a light and airy wear, the 215B will be a go-to staple for your everyday look.
Now, all these technical words can get confusing. You can only listen to this pitch for so long until you get lost! Here is a breakdown of why we love the 215B Threadfast Ladies' Cross Dye Short-Sleeve V-Neck T-shirt:
1. It's made from 60% Ring-spun Cotton – A fabric that is both strong and soft!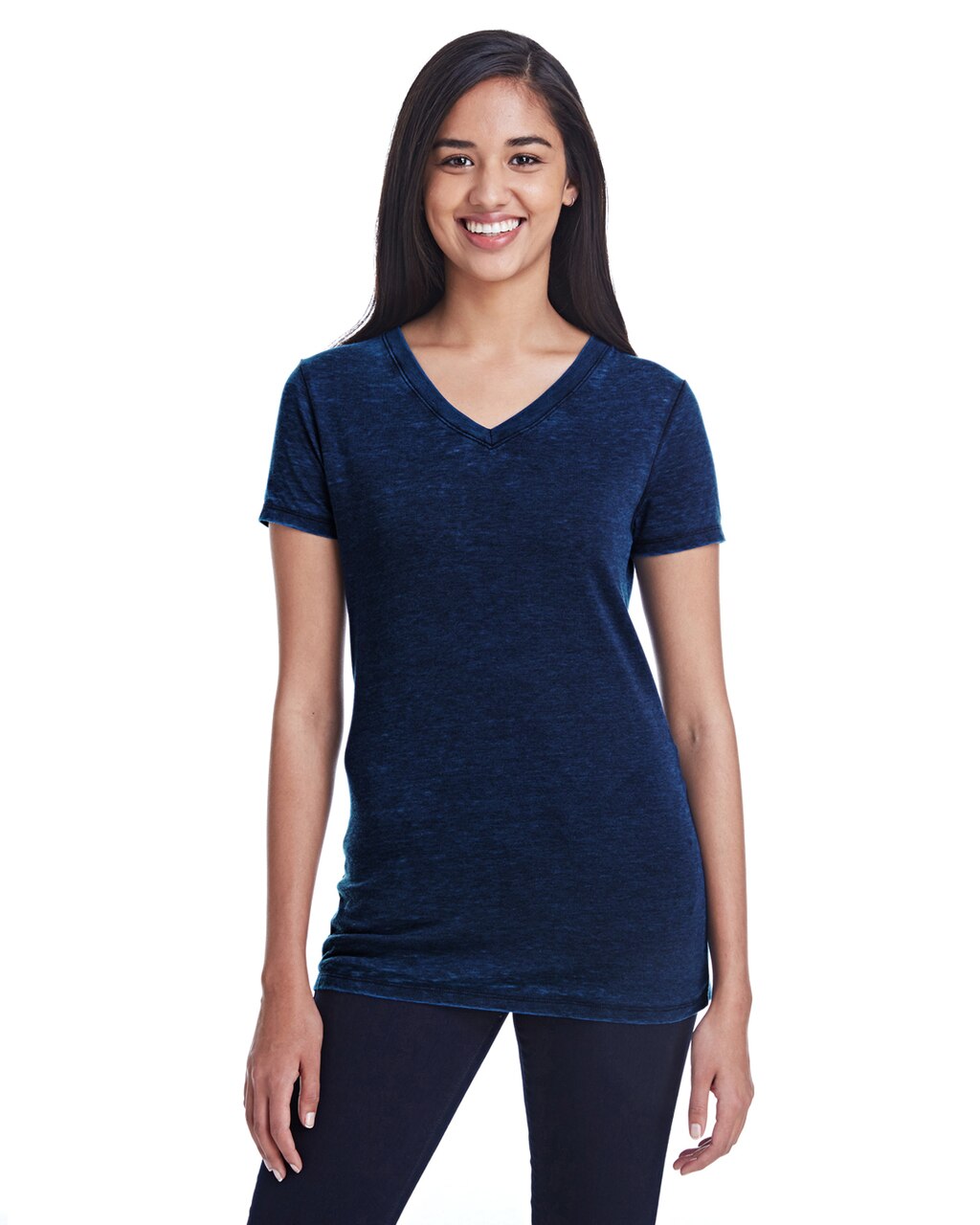 What's Ring-spun cotton? I'm glad you asked! In a nutshell, you can tell the difference between Ring-spun Cotton and Regular Cotton because it looks and feels much nicer. Sure, that is a pretty general description, but hear me out: Regular Cotton is made from soft vegetable fiber that are twisted together to make yarn, which is then woven to make a material. Ring-spun Cotton yarn is made by twisting and thinning the cotton strands to make very fine, strong, and soft cotton fibers. Not only will Ring-spun cotton be softer and more durable, it looks a lot better too!
2. It is also made from 40% Polyester – It looks vintage… but is it really?
This is important because the Polyester content is the reason why the 215B is called a Cross Dye T-Shirt! The 215B Threadfast Ladies' Cross Dye Short-Sleeve V-Neck T-shirt is a blend of Ring-spun Cotton and Polyester which makes it incredibly soft, but also distressed and vintage looking. Ever wonder why this and other shirts have white, spattered flecks throughout? That's because of the Polyester woven into the fabric. We love a non-vintage, vintage find!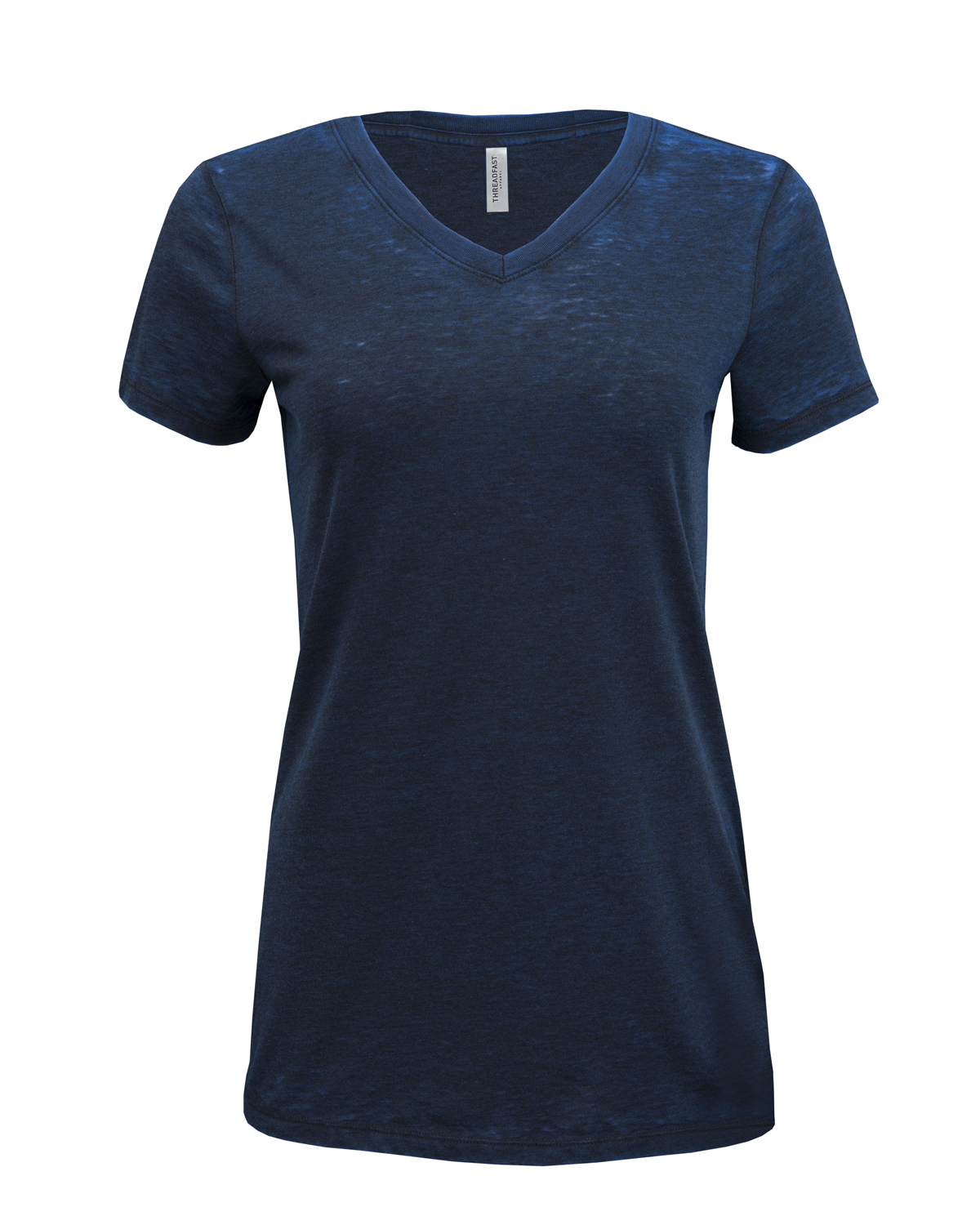 3. 32 singles? Does that mean they're 32 singles in my area? Only 32-year-old singles can wear this shirt?
No way! The 215B Threadfast Ladies' Cross Dye Short-Sleeve V-Neck T-shirt can be worn by any person of any age! When talking about clothing, the term "singles" is a way of explaining the weight of the thread being used. The higher the number, the finer the thread and the lower the overall weight of the item will be. In this situation, the 215B is a very light shirt with a high singles count. For example, a thicker, 7.2 oz shirt, will have a count of 18 singles.